---
A Great post Christmas present...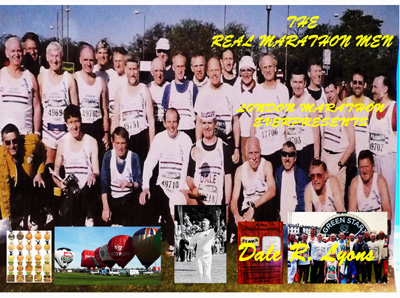 THE REAL MARATHON MEN - LONDON MARATHON EVERPRESENTS
This is the story of 42 marathon runners who were created as the 'Everpresents' by the London Marathon in 1995 after they run 15 consecutive Londons.. Now, 34 years later only 14 remain.
Their story is a testimony to a 'never say die' spirit that has sustained them during the thousands of marathons they have run all over the world.
Dale Lyons, one of the last 15, has combined a detailed factual record from his research with many heart warming anecdotes and incredible hardship stories in tracking the Everpresents' journey since 1981.
Their triumphs and cruel disappointments, the amazing sums they have raised for countless charities, their incredible running records at home and abroad and their fascinating and colourful lives away from the marathon treadmill makes for absorbing and enlightening reading.
This is a book to honour their commitment to the London, one of the greatest city Marathons and provides a lasting tribute to a rapidly diminishing group ravaged by injury, accident, illness and death.
The book will provide inspiration and motivation not only to marathon runners but to those watching the London each year thinking "that could be me!"
Publishing end of January 2014 266 pages, price £7.99 + £2.60 pp. Orders to Dale Lyons dale@5rhg.co.uk
---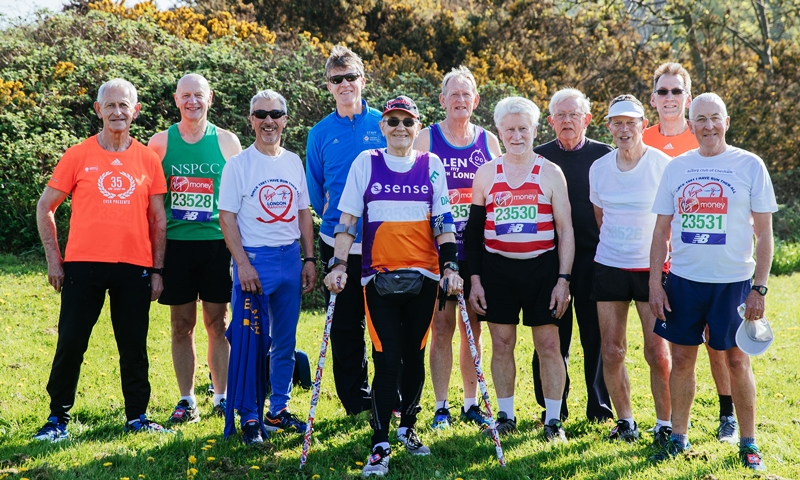 Eleven made the main photo call for the 38th London on 22 April 2018 more photos here...
Mac Speake, Terry Macey, Mike Peace, Chris Finill, Dale Lyons, Charles Cousens, Bill O'Connor, Mike Wilkinson, Jeff Aston, Mick McGeoch, David Walker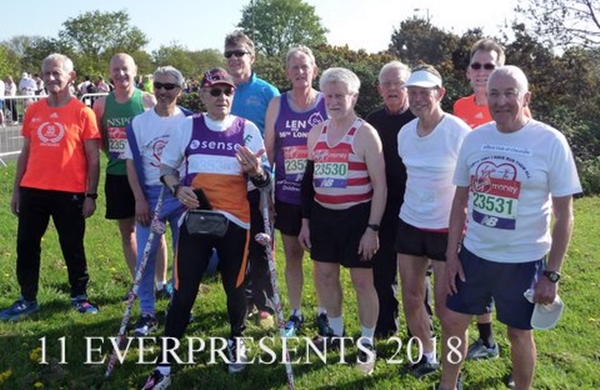 Dale Lyons latest report... 25-04-18

In case anyone is wondering what happened to Chris Finill, he was tripped after 3.5 miles, fell badly, broke his humerus (upper arm bone and not at all funny) in two places, stopped for 5 minutes for St John's Ambulance people to strap him up and feed him pain killers and still finished under 4 hours! Then in hospital until 11 p,m that night... But he is still an Ever Present
---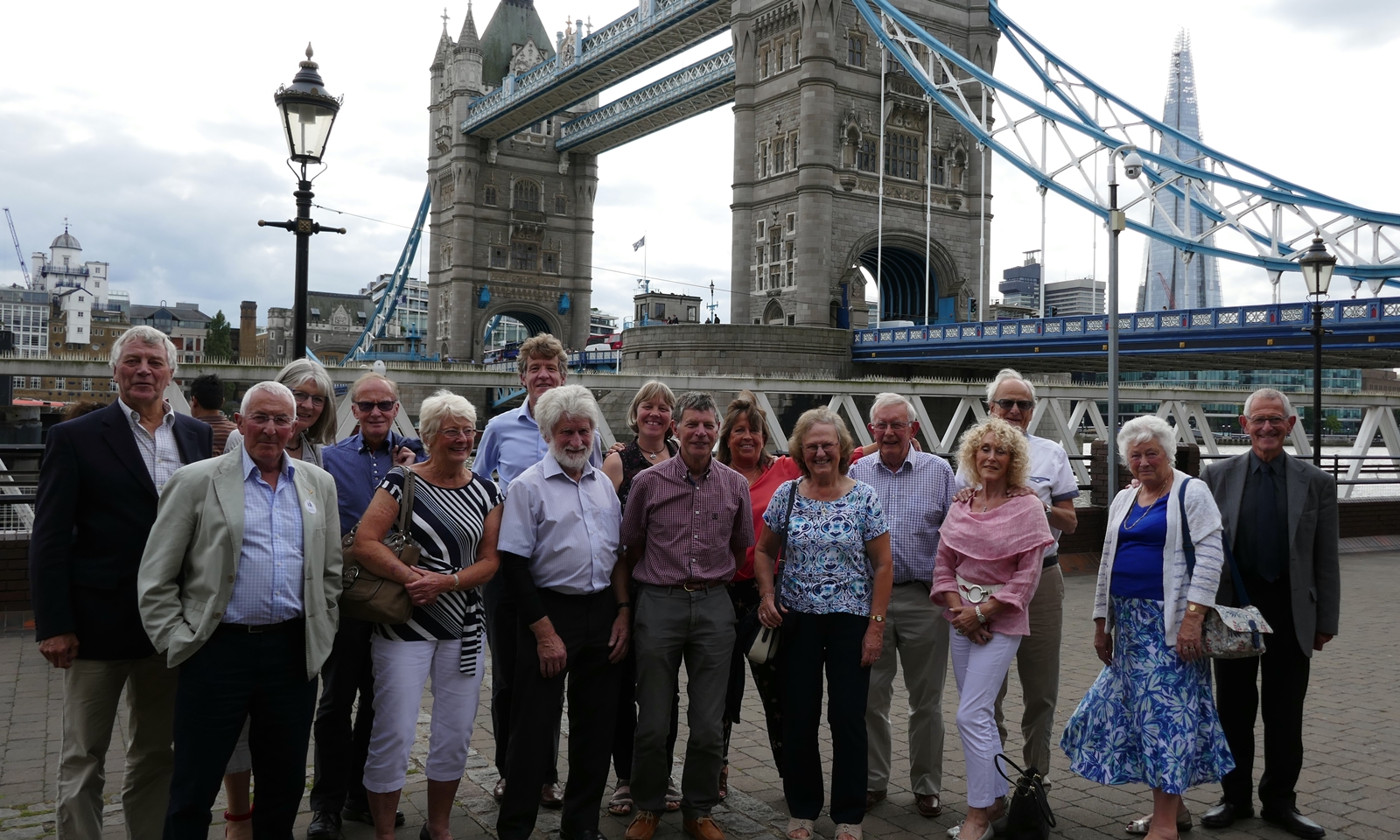 On 24 August 2017 Dave Walker organised a get together at the Tower Hotel which was preceded by a tour above and below Tower Bridge. Great day out. More photos here... 25-08-17
---
Dale Lyons latest report... 4-05-17
Sad to report that Roger Mawer, Lowestoft RR. died 20 April 2017 3-05-17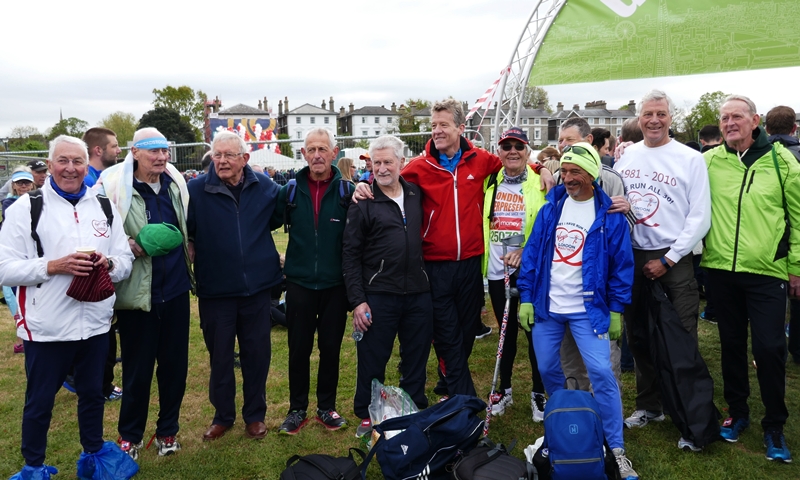 Eleven current and past made the main photo call for the 37th London on 23 April 2017 more photos here...
David Walker, Ken Jones, Mike Wilkinson, Mac Speake, Bill O'Connor, Chris Finill, Dale Lyons, Jeff Aston, Mike Peel, Charles Cousens, Mike Peace (front)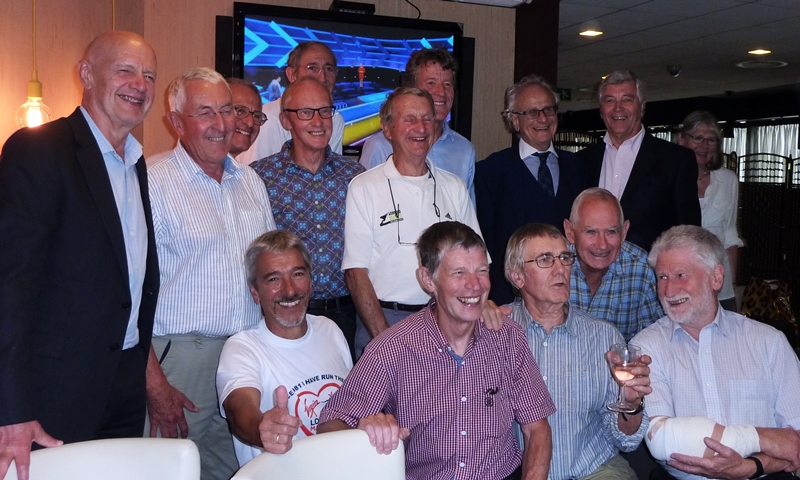 Photos from Social get together 19 August 2016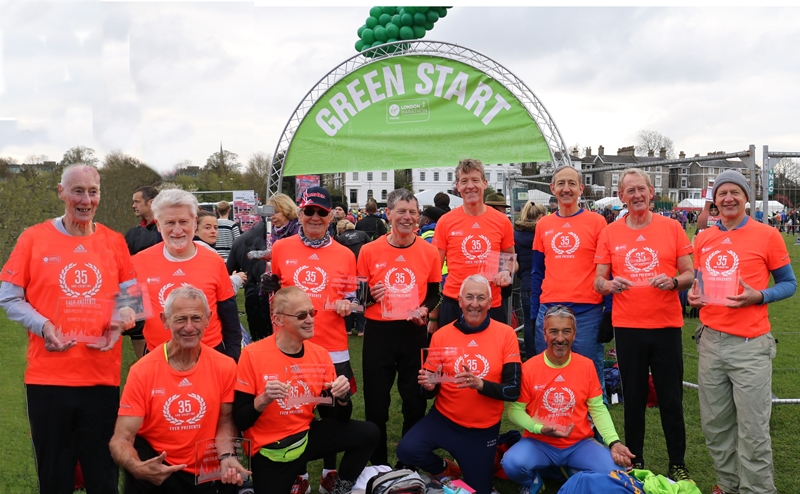 All twelve made the main photo call for the 36th London on 24 April 2016 more photos here...
Ken Jones, Bill O'Connor, Dale Lyons, Jeff Aston, Chris Finill, Roger Low, Charles Cousens, Terry Macey
Mac Speake, Steve Wehrle, David Walker, Mike Peace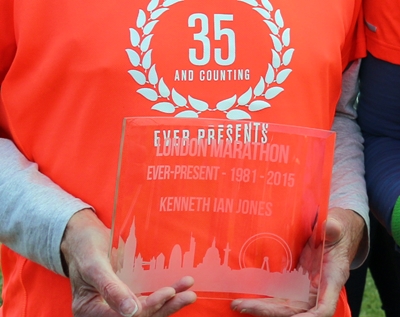 John Wright of 'Perfectly Engraved' has been honoured to work with Dale Lyons on developing a bespoke glass award for the London Marathon Ever-presents. "Congratulations to you all for your thirty-five years of participation and endeavour." The 12 remaining Ever-presents were delighted with their magnificent, engraved and personalised glass trophies and said they would have pride of place in their collection. http://www.perfectlyengraved.co.uk/awards-by-type/crystal-glass
We started off with 42 in 1995 - after the 2015 edition we were down to 12 and we are still 12!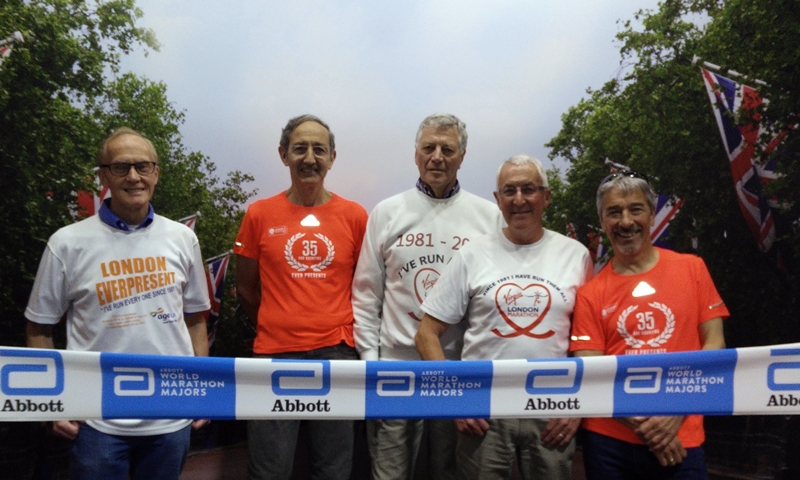 Five of us met up on Thursday, 21 April 2016 at registration 21-04-16
---
Watch Mike Peace on BBC's Get Inspired website 26-04-16
Get Inspired: Inspirational stories from the London Marathon start line by BBC - Ken Jones is featured 21-04-16
Jeff Aston was interviewed by Eleri Sion on BBC Radio Wales - listen here... 18-04-16

Download the PDF of the article on the 12 remaining Ever Presents from the May 2016 issue of Runner's World.
With the permission of Runners World
The photographer was Ben Knight: benknightphoto@mac.com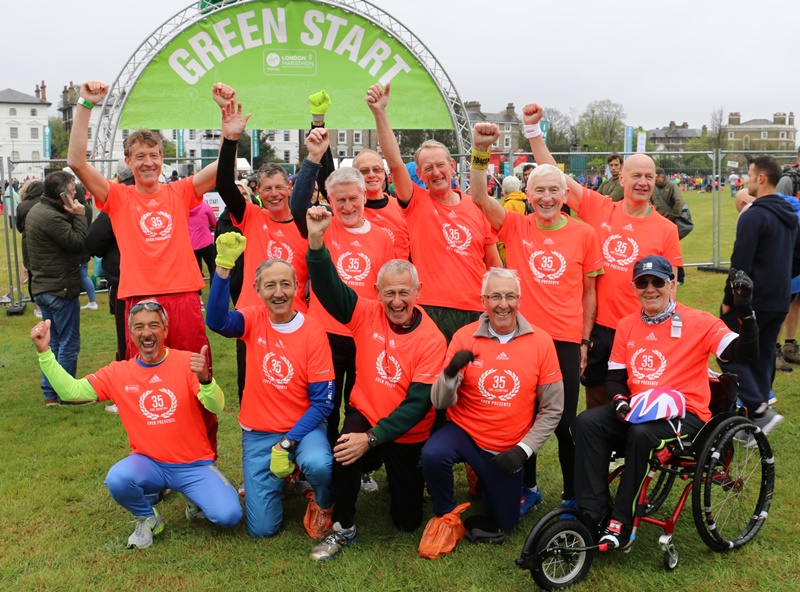 Twelve made the photo call for the 35th London on 26 April 2015 more photos here...
Chris Finill, Jeff Aston, Bill O'Connor, Steve Wehrle, Charles Cousens, Pat Dobbs, Terry Macey
Mike Peace, Roger Low, Mac Speake, David Walker, Dale Lyons
More about the EP's in todays Daily Mirror. 28-04-15
Read all about the EP's in todays Daily Mirror. 24-04-15
---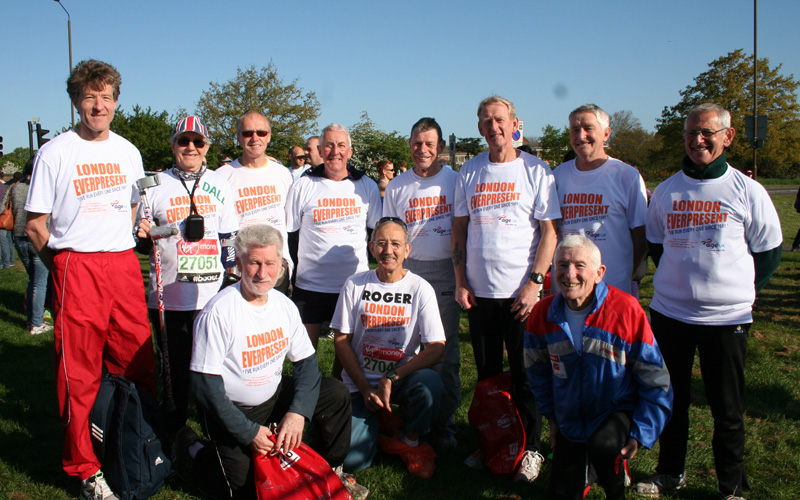 Eleven made the photo call for the 34th London on 13 April 2014 more photos here...
Chris Finill, Dale Lyons, Steve Wehrle, David Walker, Jeff Aston, Charles Cousens, David Fereday, Mac Speake
Bill O'Connor, Roger Low, Pat Dobbs
---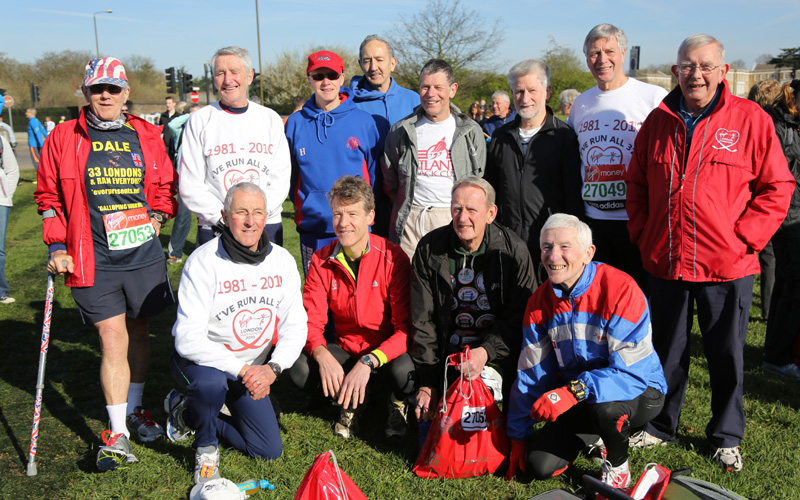 Twelve made the photo call on the Green Start for the 33rd London on 21 April 2013 more photos here...
Dale Lyons, David Fereday,Steve Wehrle, Roger Low, Jeff Aston, Bill O'Connor, Mike Peel, Mike Wilkinson
David Walker, Chris Finill, Charles Cousens, Pat Dobbs 16-04-13
---

Twelve made the photo call on the Green Start for the 32nd London on 22 April 2012 more photos here...
Steve Wehrle, Bill O'Connor, Roger Low, Jeff Aston, David Walker, Charles Cousens, Dale Lyons, Mike Peel, Mike Wilkinson
Pat Dobbs, Mike Peace, Chris Finill
Four registered on Thursday and were interviewed by Vicki Barker, a radio reporter for npr & CBS News in the US of A.
The result of which were broadcast in the States on Sunday morning... 22-04-12
---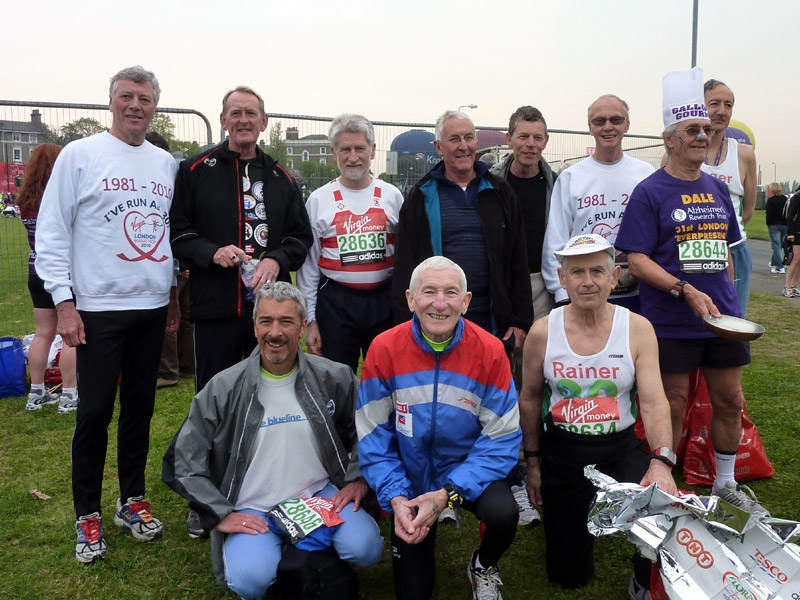 31st London 17 April 2011 - Eleven made the photo call, others came late... More photos here...
Mike Peel, Charles Cousens, Bill O'Connor, David Walker, Jeff Aston, Steve Wehrle, Dale Lyons, Roger Low
Mike Peace, Pat Dobbs, Rainer Burchett
---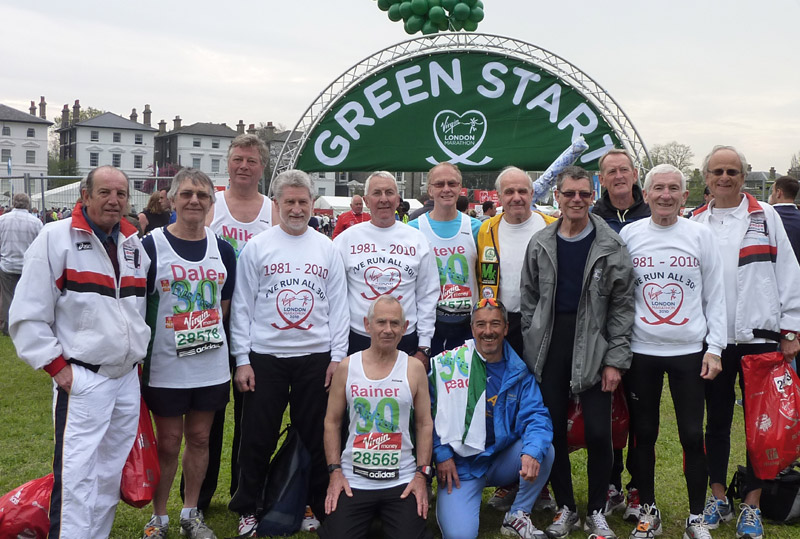 Fourteen made it to the Green Start Photo Call on 25 April 2010 - more photos here...
Tony Tillbrooke, Dale Lyons, Mike Peel, Bill O'Connor, David Walker, Steve Wehrle,
David Clark, Jeff Aston, Charles Cousens, Pat Dobbs, Jeff Gordon
Rainer Burchett, Mike Peace,
---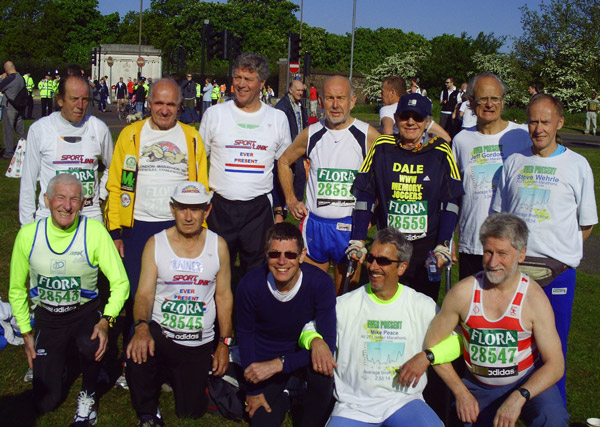 26 April 2009 - Only 12 this time - but found more inside the Green Start - more photos here...
Tony Tillbrooke, Dave Clark, Mike Peel, John Hanscomb, Dale Lyons, Jeffrey Gordon, Steve Wehrle
Pat Dobbs, Rainer Burchett, Jeff Aston, Mike Peace, Bill O'Connor
---