Get Inspired: Inspirational stories from the London Marathon start line by BBC - Ken Jones is featured see below 21-04-16
Get Inspired: Inspirational stories from the London Marathon start line
'Running is essential for a long and happy life'

Marathon motivation: 82-year-old Ken Jones has run every single London Marathon from the first one in 1981. He likes to inspire the older generation to run and stay healthy. He makes a point of running the race slow enough to talk to as many people as he can along the way.

Ken grew up in London and was evacuated during the war as a child. He was in and out of hospital as a youngster, and didn't take up running until he joined the army at 18.

Ken says: "I am passionate about running, and want everyone to get out there. I believe it's essential for a long and happy life."

Target time: 6 hours 30 minutes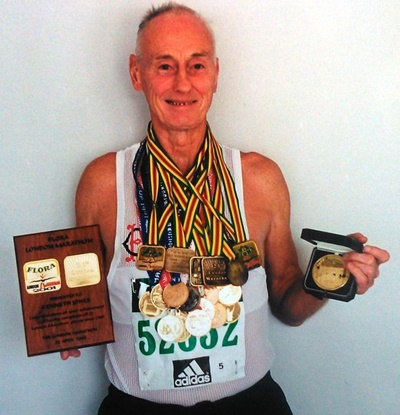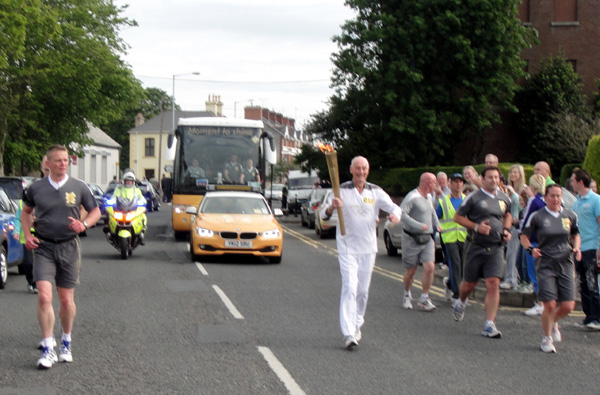 Ken's leg was on 6 June 2012
To all Everpresents Guys
I believe the reason why that I did not appear on the BBC coverage was that a woman attempted to grab the torch and the Relay Team did not want to show it, to stop any further attempts. The Police guys prevented her from actually getting to me.
The whole town of Strabane in Northern Ireland, where we live, came and supported the relay. Huge crowds all the way. On the Torch Bearers coach, we cheered and waved the whole time and we all made lots of new friends amongst each other. Some had remarkable stories to tell of why they were nominated. One young lady who light my torch had given a kidney to her father. There were so many stories to tell it would take all day.
One of the best days of my life (thank you Roger Low for nominating me).
Thank you Olympic Relay Team for doing such a difficult job so very well. The Police guys were 1st Class. Every one of the people in the Team make us very welcome and make it one of the best days of our lives.
Thank you from all of the Torch Bearers on the coach from Derry to Sion Mills, we all had a truly wonderful day, memorable time THANK YOU.
Ken Jones, Orion harriers
Jeffrey Gordon carried the torch on Monday 23 July 2012, the same day as Mike Peel.
Bill O'connor also carried, his stint was Wednesday 25 July 2012. 2-07-12


Ken came a cropper at the 23 mile mark during the 2010 race... he looks a lot better now!