Last updated 12 March 2002
ATHLETICS ENIGMAS by Alastair Aitken
No athletics addict should be without this book.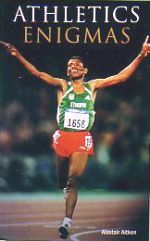 Published to coincide with sporting legend Haile Gebrselassie running in the 2002 London Marathon, Alastair Aitken's latest collection, Athletics Enigmas, brings together the extremes of the athletics world: those star professionals whose names are familiar to us all and the ordinary club runners who are largely unsung.
Feature angles include:
Alastair Aitken has spent time with many favourites, from the legendary Gordon Pirie to today's Steve Backley, and reproduces those interviews here, complete with all the relevant race statistics.
The book examines the worlds of track and field athletics, cross country running, veteran and ultra distance running.
Alastair Aitken has extensive personal experience as a marathon runner. He ran the first 19 London Marathons and has been an accredited journalist at many major athletics meetings. He currently writes for Athletics Weekly.
Alastair Aitken was born in Edinburgh in 1940 and was educated at Langley School in Norfolk.
Alastair Aitken wrote his first article on athletics when he was only 18 years old and has written two other books on athletics published by The Book Guild. He is married with one son and lives in South East London.
| | | | |
| --- | --- | --- | --- |
| TITLE: | ATHLETICS ENIGMAS | AUTHOR: | ALASTAIR AITKEN |
| PUBN: | 28th MARCH 2002 | PRICE: | £9.99 |
| ISBN: | 1857766032 | CLASS: | NON-FICTION/SPORT |
| PAGES: | 224 pages PBK 32 B/W PHOTOS | LOC: | SOUTH EAST LONDON |
PUBLICITY CONTACT: EMMA WHELAN
THE BOOK GUILD LTD
TEMPLE HOUSE, 25 HIGH STREET, LEWES, EAST SUSSEX, BN7 2LU
TEL: 01273 472534 FAX: 01273 476472 EMAIL: emma@bookguild.co.uk
DISTRIBUTED THROUGH: VINE HOUSE DISTRIBUTION LTD, WALDENBURY
NORTH COMMON, CHAILEY, EAST SUSSEX BN8 4DR
TEL: 01825 723398 FAX: 01825 724188 EMAIL: sales@vinehouseuk.co.uk